EXPERIENCE THE BEST IN LUBBOCK
Close to campus? Check. Resort-style amenities? Check. Modern apartments? Check. When it comes to off-campus apartments near Texas Tech, Wildwood Lubbock has what you're looking for. Plus, with a three-tier pool area with a swim-up bar, it'll make every day one for the books.
Choose from a great selection of 2, 3, and 4-bedroom townhomes or flat-style apartments in Lubbock. Our fully furnished apartments include a 65" TV, washer/dryer, and private bedroom and bath. Plus, with a 3-tier pool area with a swim-up bar, it'll make every day at our Texas Tech apartments on campus one for the books.
The Ultimate Amenitiy Package
Want multiple courtyards with grilling stations and fire pits? How about a fitness center to amp up that wellness routine or individual study spaces to get that paper done on time? At Wildwood Lubbock, TX, there's all of that and more.
Find Your Fit in Our Flat & Townhome Apartments
There's a reason we're the premier choice for student housing in Lubbock. You'll get all the privacy you're looking for with your own bedroom and bathroom, and our fully-furnished modern apartments are ready for entertaining your friends when you are. Ready to find your fit?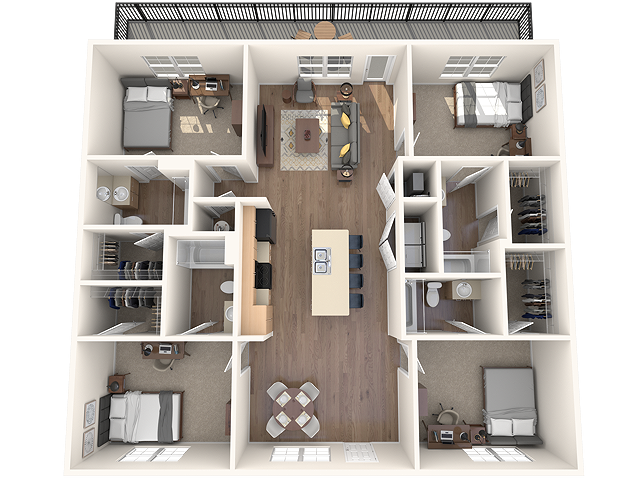 Discover What Lubbock Has to Offer You
Just four minutes from Texas Tech University, Wildwood Lubbock takes convenience seriously. Spend the time you're not stuck in traffic enjoying our resort-style amenities in a pet-friendly space.
Check out what's happening at Wildwood Lubbock and what it's like to really call us home – Follow us @wildwoodlb on Instagram.